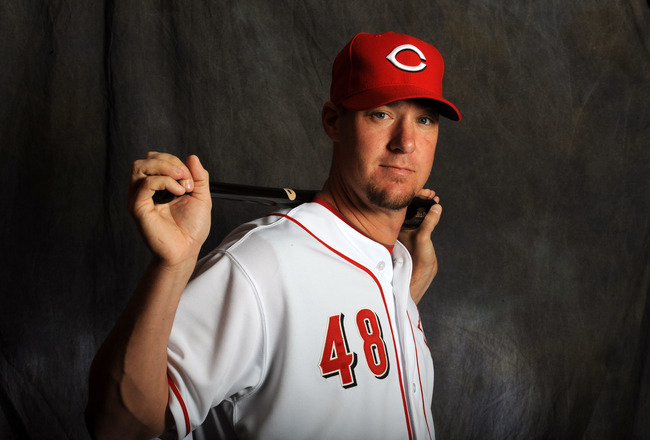 There is arguably no better sports story than one involving an underdog rising above expectations to prove critics wrong. And this is precisely the story that
Ryan Ludwick
is trying to write with the Reds this season.
Last year was definitely one to forget for the 35-year-old veteran. Ludwick was injured on Opening Day and essentially missed the entire season. Sure, he was able to return in mid-August, but even Ludwick will admit that he wasn't fully healthy. The numbers he posted at the end of 2013 seem to reflect this as well.
But 2014 is a new year and Ludwick seems to be chomping at the bit to have a bounceback season. He looked good during Tuesday's game against the Royals in which he blasted a monster home run in Surprise, Arizona. Afterward, Ludwick told
C. Trent Rosecrans of the Cincinnati Enquirer
he has never felt stronger, which should be quite delightful to hear for fans.
Furthermore, Ludwick has not been living under a rock over the past several months, meaning he is fully aware of the critics who don't believe he's the answer for Cincinnati in left field.
"There's nothing better for me than to hear the naysayers say I'm done, that helped me out a lot this offseason, pushing to become a better player. I've seen a lot of stuff — he's getting older, he's coming off a shoulder surgery. People who have shoulder surgeries late in their career don't tend to come back, but fortunately for me, it's my non-throwing arm. I've been through five other major surgeries, so it's not like I haven't been through it before."
Whether or not he's successful remains to be seen. But you have got to love Ludwick's attitude and approach to getting himself in a position to thrive.
With that said, the Reds are hoping to receive the 2012 version of Ludwick that batted .275 with 26 home runs, 28 doubles, and 80 RBI. If not, the Florida native will still rake in a salary of $8.5 million this year and holds a $9 million mutual option for 2015 ($4.5 million buyout). It's not likely the club will pick up his option for next season, but a strong showing in 2014 could convince the Reds brass otherwise.