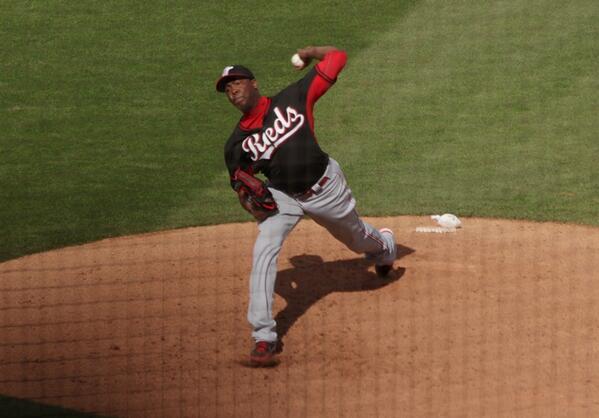 In case you haven't seen, the Reds are donning uniforms other than red and white this spring. And it's caused quite the commotion among traditionalists and progressives alike.
As fate would have it, the boys in red have gone to the dark side a couple times already during spring training, cloaking themselves with predominantly black garb, instead.
What you behold above this post is
Aroldis Chapman
decked out in the aforementioned get-up. As you can see, there's a lot of black, some grey, a little white, and a sprinkle of red. If you can't quite see the logo on the cap, it's none other than an illustration of Mr. Redlegs happily running with a bat in tote.
Now, there has been plenty of opinion regarding the aesthetic selection since the club
announced its arrival in December.
After an initial wave of reaction, things cooled off over the winter months until Cincinnati whipped out the uniforms in Goodyear. Naturally, it's become a hot topic again.
So, it begs the question: how do you feel about the black uniforms?
Personally, I like them. I think black uniforms emit a certain intimidation factor that no other color can. And I'm all for gaining an edge over the opposition if there's one to gain. Plus, I think they just like cool.
On the other hand, fans who oppose the uniforms seem to be taking a more common sense approach.
Why would the Reds wear any other color but red?
That's admittedly a very good point. However, let's apply that philosophical approach to other areas in life. Why do we feel the need to drive to the movies and pay $50 for a family of four when we could easily save money by watching a movie at home? Why do we choose to spring $75 for a nice meal out when we can eat for a tenth of that cost by making it ourselves? And why do we give in to buying an expensive pair of shoes when we have suitable alternatives available at a cheaper cost?
Let's call it like it is, folks. Everyday we go against the grain of common sense and do things that aren't practical. Why? Well, we like to be entertained. We enjoy diversity. We value change.