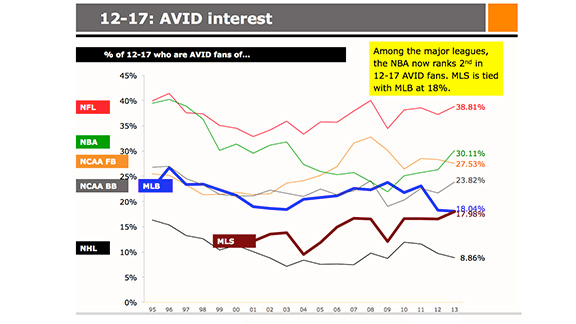 Major League Baseball has long enjoyed a reign near the top of the professional sports world in regards to overall interest, fans, and revenue. But might Major League Soccer by nipping at its heels?
The reality of such a shift in league popularity occurring probably seems like a longshot to most baseball fans. However, according to a recent study published by
Luker On Trends and ESPN
, results show that MLS and MLB are now equal in terms of avid fans between the ages of 12 and 17. In other words, baseball is just as popular with kids as soccer.
"MLS has been around since 1996," Rich Luker told ESPNFC.com. "It is phenomenal that in just one generation it has gone from zero adherents to tying MLB, especially when you recognize this is the first generation to only know the United States with a professional soccer league. MLS is in their generational DNA."
Part of the reason behind MLS' increase in popularity among the younger generation stems from the highly successful FIFA video game franchise by EA Sports. Apparently, the game has done well to drive interest to the sport and league overall.
"While there are questions about which direction MLB will go in for 12-17-year-olds," he said, "we have no reason to believe the trend for MLS will be anything but up."
Do you believe MLB is in danger of getting passed up by MLS one day?
Photo: Luker on Trends