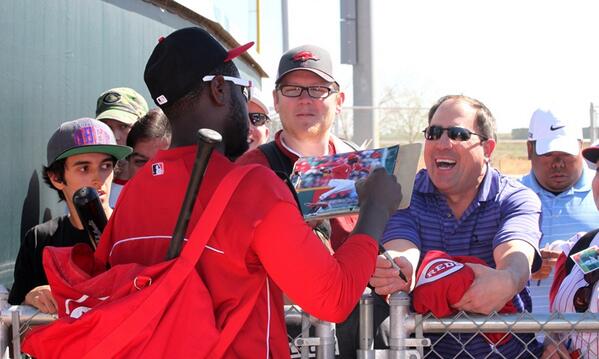 + The Reds dropped a tight affair against the Mariners Monday afternoon, 6-5. Here's
a link to the box score
if you're interested.
+ MLB.com's Mark Sheldon writes that right-hander
Curtis Partch
is
tinkering with his mechanics
this spring in an effort to optimize his chances of helping the big league club. I hope Partch becomes a successful reliever one day, because my lasting memory of him currently is the mammoth grand slam he coughed up to Matt Holiday in his major league debut on
Sunday Night Baseball
last year.
+ Is it possible for
Aroldis Chapman
to be even better than he has been? Sheldon
writes that the southpaw is more at peace now
that his whole family is with him in the U.S. This could certainly help the southpaw concentrate more of his focus on baseball moving forward. That's not to say he wasn't focused in the past, but one cannot overvalue the importance of feeling at ease and comfortable about personal stuff.
+ On a related note, Chapman hurled two innings in Monday's exhibition, something he did on just one occasion all of last regular season. Apparently, he's
using the extra work to hone his secondary pitches
(like his 100 mph fastball isn't already enough to strike fear in hitter's).
+
C. Trent Rosecrans of the Cincinnati Enquirer
reports that
Mat Latos
is expected to throw a bullpen session on Wednesday. It would mark the first of spring training after undergoing arthroscopic knee surgery a few weeks back. I'm stating the obvious here, but the Reds desperately need a healthy Latos if they want to seriously contend for the title.
+
John Fay of the Cincinnati Enquirer
profiles how the Reds are excited about the development of young outfielder
Yorman Rodriguez
. The 21-year-old is possibly one of the guys we could see in Cincinnati down the road, so keep a lookout for him.
+ America's favorite bat boy, Teddy Kremer, is set to be named the "
Spirit of Cincinnati USA Ambassador
" during the Annual Spirit of Cincinnati USA Awards event on Wednesday. Great job, Teddy. You continue to be an inspiration to us all.
+ Hey, only 27 more days until Opening Day. All of this snow on the ground doesn't make it seem like the regular season is nearly here. But rest assured that it is. We'll be playing meaningful baseball by month's end.
Photo: @Jamieblog