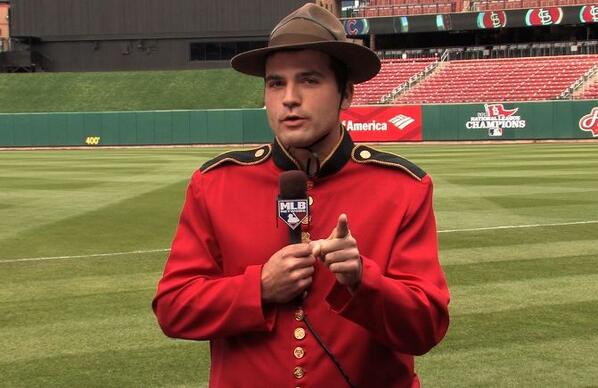 Joey Votto joined Chris Rose and Kevin Millar of MLB Network's Intentional Talk on Tuesday and it's not what he said that people who were watching will remember. It's what he was proudly wearing instead.
You can see the video by following this link.
Behold, the former MVP donning a uniform normally reserved for the Royal Canadian Mounted Police, or what is colloquially known as the Mounties. Your eyes don't deceive you. That's Canadian native Joey Votto sporting a police uniform from his native land.
Perhaps this is an attempt by Votto to let his teammates know that he won't tolerate losing series' any more? The Reds are in danger of dropping their first three series' of the season after dropping yesterday's opener to the Cardinals. After St. Louis, the Reds return home to host the Rays and Pirates, which aren't exactly teams you would like to play when trying to climb back to a .500 record.
Update: Here's the real reason behind today's antics:
We're told @MLBNetwork photoshopped the uniform on him during spring training. He wanted to wear a real one for today on @IntentionalTalk.
— Reds (@Reds) April 8, 2014
Via @
IntentionalTalk