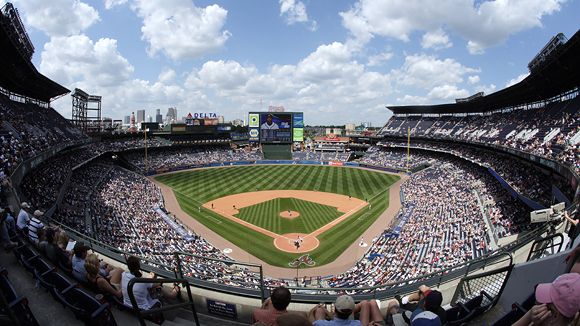 After beginning the season 4-9, the Reds have managed to bounce back and win seven of their last nine games to climb back to a .500 record. Part of their resurgence has hinged on the awakening of their previously stagnant offense led by Devin Mesoraco.
However,
Bryan Price
's club will have their work cut out for them when they visit Atlanta this weekend. The Braves have held down the top spot in the National League East for most of the season so far thanks largely to the masterful pitching their starters have provided (1.50 ERA).
Will the Reds be able to continue their recent run of success against one of baseball's best pitching staffs? Or will the Braves protect their turf and send the boys back to the Queen City in defeat? We'll soon find out after this weekend's three-game series concludes on Sunday afternoon.
In the meantime, here are some news and notes....
+
Skip Schumaker
continues to rehab from dislocating his shoulder in spring training. He's
currently at the team's spring training complex
in Goodyear regaining his strength while playing in extended games. When his time in Goodyear is done, he'll likely head to Triple-A Louisville for a brief rehab assignment before joining the Reds again, hopefully sometime by the middle of May.
+
Aroldis Chapman
threw to live hitters on Wednesday
for the first time since his accident. Those who were there called his performance "electrifying." The next step is for Chapman to throw to live hitters again when the Reds pay a visit to Atlanta this weekend.
+ Dan provides his
weekly dose of musings in this post
where he points out that the Reds are undefeated on Wednesdays and Sundays (7-0) and winless on Mondays and Saturdays (0-7). With this in mind, Cincinnati may want to consider mixing up their pre-game routines on the latter days.
+ There's no middle ground when it comes to baseball enthusiasts liking sabermetrics. You either love the usage of advanced stats or you hate them. Former Reds second basemen
Ron Oester
is
clearly not a fan.
He went on the air with Paul Daughtery this week to reveal his disdain for such things. In fairness, Oester also talked about a lot of other stuff too. However, his hate for sabermetrics is what drew headlines.
+ Hey, it's prom season for many high school juniors and seniors around the country. So what better way to celebrate than by asking Reds players about their memories of that fateful night(s) in their lives? A fist bump goes to the
Cincinnati Enquirer
for
doing just that.
+ Most of us can probably still remember when packs of baseball cards included bubble gum. Or at the very least have heard others talk about it. Well,
Jim Caple of ESPN.com
paid homage to this lost tradition with a a nostalgic piece published on Wednesday. Long live the memories of gum and cards.