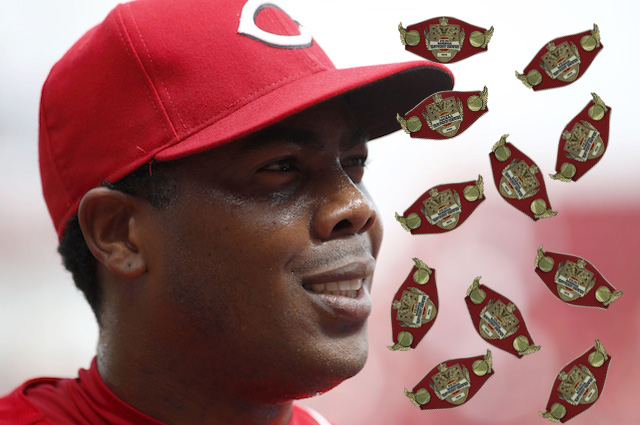 The Reds picked up a series victory over the Rockies this past weekend and that is good news in more ways than one. This is because Cincinnati has been bestowed the
dubious
prestigious baseball heavyweight championship belt from the folks at
CBS Sports' Eye on Baseball.
Some of you may be wondering, what the hell is the baseball heavyweight championship belt all about? Fortunately, there is a reasoning behind such an, umm, honor.
The Eye On Baseball Heavyweight Championship, inspired by the valorous glories of professional wrestling, is back for a second season.
The defending World Series champ starts the regular season with the belt. From there, here are our rules.
1. A team must win a series from the champion to take the belt. One game isn't going to cut it, considering it's a 162-game season and teams all view the season in terms of series.
2. If the belt-holder splits a series (two- or four-game series), it retains. Much like on a draw in boxing or a count-out situation in pro wrestling, you don't get the belt unless you actually beat the champion. A tie isn't good enough.
3. If, at the end of the regular season, the belt-holder does not make the playoffs -- and due to the dynamics of this thing, that scenario is entirely plausible -- said team will be stripped of the title for not qualifying for the postseason. Then the winner of the playoffs -- the World Series -- takes the belt and the title into the offseason.
Previous holders of the belt include the Red Sox, Brewers, Cardinals, Mets, Rockies, and now Reds, in that precise order. Cincinnati will put the belt on the line beginning Tuesday when they host the Padres for a three-game set at Great American Ball Park. The winner of the series gets the hardware.
Photo: Eye on Baseball