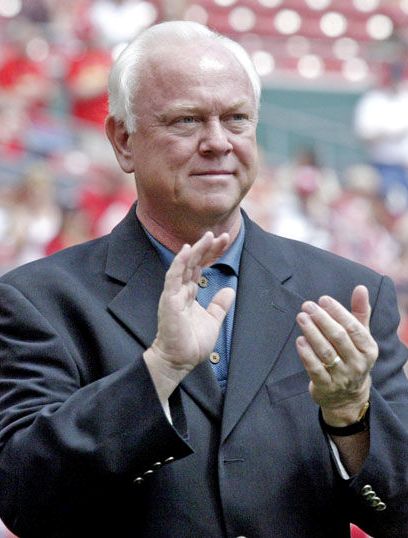 Reds general manager Walt Jocketty has had his work cut out for him this season as injuries have forced him to shuffle the deck more than a card dealer in Vegas. But a
recent report by Ken Rosenthal of FOXSports.com
suggests Jocketty may not have to worry about the state of Cincinnati's organization much longer. Well, at least beyond this year.
According to Rosenthal, Jocketty's name has been tossed around as one of the potential candidates to replace current Arizona Diamondbacks general manager Kevin Towers. This is assuming Arizona's new chief baseball officer, Tony La Russa, decides to can Towers at some point in the near future.
Here is an excerpt from Rosenthal's column about Jocketty:
The search for a new GM, meanwhile, could be even more fascinating. La Russa doesn't want the job, just as he doesn't want to manage. Sources say that he has yet to even discuss candidates with upper management. But two names were brought to my attention over the weekend, both rather intriguing.

....

The second candidate is someone with whom La Russa is even more familiar -- his former boss with the Cardinals, Reds GM Walt Jocketty. This is the final year of Jocketty's contract. He recently bought a home in Phoenix. And he has told friends that he only wants to remain a GM for a few more years.

This could get complicated: Jocketty, 63, might be loyal to Reds owner Bob Castellini, and he also is good friends with Towers. Then again, if the D-backs fired Towers, he almost certainly would bless Jocketty as his replacement. Towers is remarkably even-handed, accepting of the game's harsh ways.
For the record, Detroit Tigers assistant general manager Al Avila was the other name Rosenthal mentioned in the report.
It goes without saying, but a lot would need to happen for Jocketty to jump ship in the Queen City in favor of Phoenix. But this is not to say it's implausible to see such a scenario unfold.
Although Jocketty has helped orchestrate three postseason trips in four years, the pressure from Reds fans continues to grow. The team has yet to advance beyond the first round of the playoffs under Jocketty's watch and the unwillingness to add help at past trade deadlines hasn't sat well with fans either.
All told, a change of scenery from Great American Ball Park to Chase Field could be a much-needed new beginning for Jocketty. And teaming up with an old friend in La Russa has to be alluring for the 63-year-old as well. Especially if this 2014 season continues on the trajectory it's on and the Reds wound up missing the postseason by a longshot.
Quick facts: Jocketty was hired as a special adviser to the Reds in Jan. 2008. By April, he assumed the role of general manager after Wayne Krivsky was fired. In 2010, Jocketty built the first Reds team to go to the playoffs since 1995. For his efforts, he was named Sporting News Executive of the Year. Notable transactions made during his time as Cincy's GM include signing Aroldis Chapman, acquiring Mat Latos from the Padres in a five-player trade, extending Brandon Phillips, Homer Bailey and Joey Votto, drafting Mike Leake, firing Dusty Baker, and hiring Bryan Price as the club's manager.