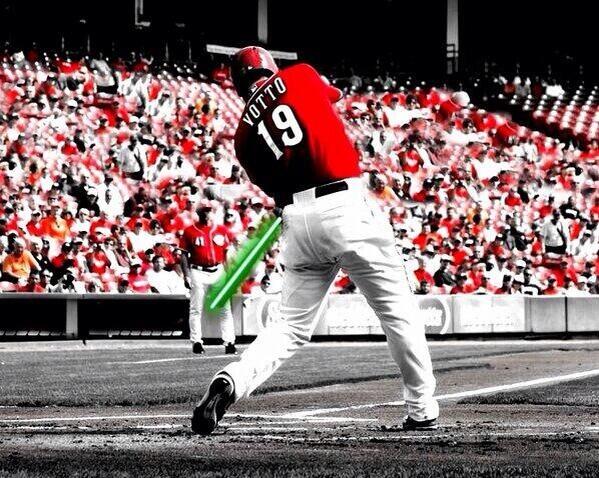 Are you having trouble keeping up with all of the Reds-related news lately? You're not alone. There's been a lot of it lately and the following is an opportunity to get you up to speed.
+ Reds fans got their first look at utilityman
Skip Schumaker
Saturday night after he was activated from the disabled list. He entered the game in the bottom of the seventh inning as a pinch runner for
Ryan Ludwick
and stayed in the game to play left field. Schumaker had previously been out of service since dislocating his left shoulder late in spring training. In order to make room on the 25-man roster,
Roger Bernadina
was designated for assignment. The 29-year-old was hitting .143 (4-for-28).
+ Have you ever wondered how the infamous "Banana Phone" radio segments during rain delays came about? Marty Brennaman tells all in this
video from Cincinnati Enquirer
.
+ Speaking of Hamilton, a hand injury sustained while making a terrific diving catch on Thursday kept the speedster out of the lineup for the second straight game Saturday. He's reportedly having trouble gripping a bat, but has been available to pinch run and should be again on Sunday, assuming he's not in the lineup.
+
Andy Call of MLB.com
has an update on
Devin Mesoraco
's recovery from injuring his hamstring. Apparently, Mez did some jogging on Saturday and hopes to do some running in the next couple of days as well.
+
Bryan Price
said injured third basemen
Jack Hannahan
has been hitting off a tee and could take live batting practice within the next week or so. Hannahan is currently on the 60-day disabled list after having shoulder surgery in the offseason.
+ John Fay wrote a column about
what the month of May taught us about the Reds
. There's still a lot of baseball left to be played, obviously. But we have a better idea of what this team is capable of after watching them play for roughly five weeks now.
+ After today's series finale against the Brewers, the Reds will receive some much-needed rest in the form of two off days next week. They'll take off on Monday before paying a visit to Fenway Park on Tuesday and Wednesday to battle the Red Sox. An off day Thursday precedes a home series against the Rockies next weekend beginning on Friday.