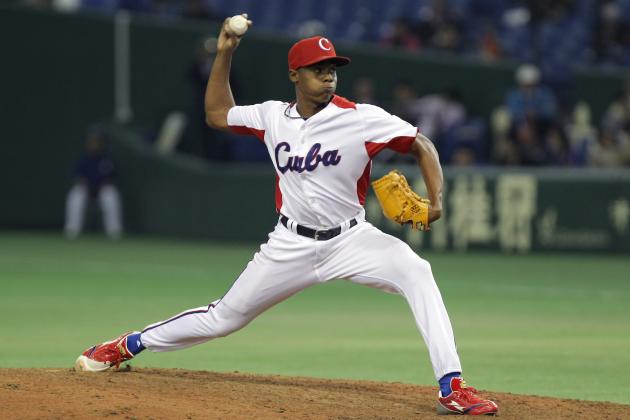 After a period of much speculation, the Reds have finally announced the signing of Cuban right-handed pitcher Raisel Iglesias. The news was first reported by
Mark Sheldon of MLB.com
.
Although the exact value of the contract is unknown at this time, Sheldon reports that the contract is good for seven years through the 2020 season. Meanwhile,
MLB.com's Jesse Sanchez reports
that the deal is worth $27 million with a signing bonus between $5-6 million.
The 24-year-old reliever pitched in front of numerous big league scouts last month in Haiti. And apparently made a good enough impression on the Reds to warrant a long-term deal. Iglesias last pitched for the Cuban national team in the 2013 World Baseball Classic.
Like fellow Cuban and new teammate Aroldis Chapman, Iglesias successfully defected from Cuba in November and currently resides in Mexico. He is expected to join Cincinnati's organization as soon as visa issues are resolved.
Iglesias takes the spot on the 40-man roster previously occupied by outfielder Roger Bernadina. Bernadina refused the club's outright assignment and ultimately became a free agent on Friday.
Iglesias is listed at a relatively diminutive size of 5-feet-11 inches tall and 165 pounds. However, it is expected that he will pick up some weight once he gets thrown into a more aggressive nutrition plan with the Reds.
Despite scouting reports suggesting Iglesias could make an impact on a big league bullpen as soon as this year, general manager Walt Jocketty believes Iglesias can start, so it remains to be seen whether the Reds use Iglesias in a relief role or not. Remember, the team had a similar goal for Chapman until they finally decided to end that quest at the beginning of this season.
Photo: Bleacher Report