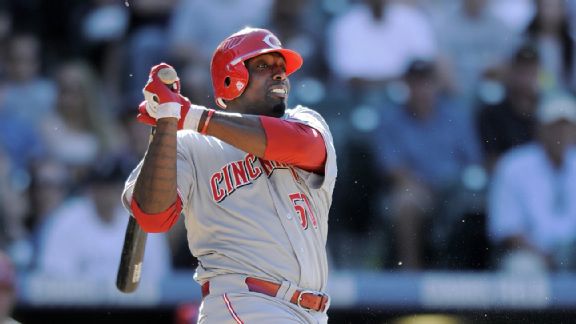 In a bit of irony or coincidence, given Cincinnati's recent offensive woes, a pair of former Reds topped a dubious list highlighting the five best-hitting pitchers of the last 25 years.
The list, based on adjusted OPS and at least 200 at-bats, was whipped up by the fine folks at ESPN.com and features
Micah Owings
at No. 1 with
Dontrelle Willis
right behind him at No. 2. A fine case could be made for both that their offensive production outweighed their pitching production while playing for the Reds.
Owings suited up in the Queen City for two seasons from 2009-10. In 48 appearances, 19 of which were starts, the right-hander compiled a 10-14 record, unsightly 5.35 ERA and ghastly 1.588 WHIP. Offensively, Owings carried his own while with the Reds, amassing a .264/.280/.528 slash line with 4 home runs and 16 RBI in 72 at-bats.
The D-Train's time with Cincinnati has proven to be his last stint in the major leagues. The southpaw made 13 starts for the Reds in 2011 and posted a 1-6 record and 5.00 ERA. However, he did bat .387 with 5 extra-base hits in 31 at-bats, so perhaps Walt Jocketty should see if he is willing to play first base for the next month while Joey Votto heals up.
To see the other offensive-minded pitchers who made the list,
click here
.