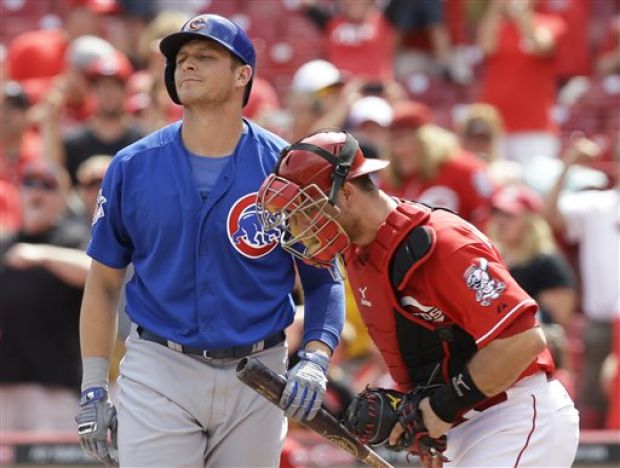 by: Dan Howard
Staff Writer
Just like the Greek mythological creature the Phoenix, regenerating from the ashes of its predecessor, our beloved Cincinnati Reds have risen from the abyss of mediocrity to have a stellar final six weeks of the first half of the 2014 season. (Yeah, I'm trying to get nominated for the Pulitzer Prize.)
After the Reds 3 – 0 loss at San Diego last Wednesday, Cincinnati was a full 7 games out of first place. Since then our Reds have made up 4.5 games in the standings and at the time of this writing, Thursday night July 10, are currently 2.5 games behind Milwaukee. In my humble opinion, once the Reds get to the top of the standings, they'll not give it up. O.K., I'm now drinking the Reds Kool-Aid, or maybe it's Hawaiian Punch.
In case you haven't watched it, MLB.com has a beautifully produced tribute of the 75th anniversary of Lou Gehrig's "Luckiest Man" speech delivered on July 4, 1939 at Yankee Stadium. In spite of my proud "Yankee Hater" status, Gary Cooper's portrayal of the "Iron Horse" in the movie "Pride of the Yankees" is beautiful, and as much as I hate to say it, it is one of my all-time favorite flicks.
If the Reds would have swept the Cubs in this recently completed five game series, my title this week would have been different.
Useless Trivia; the last time the Reds swept a five game series was July 29 to August 1, 1976 against the San Diego Padres. The last time Cincinnati swept a five game series versus the Chicago Cubs was September 2 through 5, 1931 at Redland Field. There hasn't been a five game series sweep in Major League baseball since the New York Yankees beat rival Boston Red Sox, August 18 – 21, 2006.
Speaking of San Diego, allow me to carry over some old business from last week's post; prior to last week, the last time San Diego swept the Reds at Petco Park was May 15 – 17, 2009. The Reds are 1 – 5 this year against San Diego and are 1 – 5 the last two seasons at Petco Park.
Memo to Cubs Anthony Rizzo; if you take exception to getting hit by a pitch, then maybe you shouldn't stand so close to home plate when you bat. I'm just sayin'.
Memo to the whole Chicago Cubs team; despite the arguments to the contrary, Aroldis Chapman IS human, and is prone to make mistakes, usually up and in. Just ask Cleveland's Nick Swisher.
Reds radio broadcaster Marty Brennaman was harshly critical of Homer Bailey allowing a two run double to Chicago's Arismendy Alcantara which closed the Reds lead to one run. Brennaman commented, and I'm paraphrasing, that of all the Reds pitchers in the rotation that get blessed with a three run lead, Bailey would likely be the one to give it up.
Congrats to Aroldis Chapman, who tied Bruce Sutter's MLB record for recording at least one strikeout in 39 consecutive relief appearances.
Ramon Santiago is currently hitting .429 during his modest four game hitting streak.
It was a tough week for the Reds as far as injuries with Joey Votto's return to the Disabled List, Brandon Phillips out for six week after undergoing ligament surgery on his injured thumb, Billy Hamilton tweaking the hamstring on his left leg, and Homer Bailey leaving Thursday afternoon's game early with a knee injury. Some reports say that Bailey should be ready for his next start, probably in Yankee Stadium after the All-Star break.
Now for good news on the recovery front; utility man Jack Hannahan is hitting .333 in two rehab games for the Reds Single A affiliate in Dayton Ohio.
CBS Sports Network's Minor League Game of the Week Thursday evening was South Bend at Dayton. It was the first time I watched a game televised from Fifth-Third Field. What a beautiful facility the Dragons play in. I may have to add that "Ball Orchard" (a tribute to Nuxy) into my "Fields of Dreams" list.
I hope the Home Run Derby doesn't affect Todd Frazier's stroke for the second half of the season. Anyone remember what happened to Bobby Abreu after he won the derby in 2005? Abreu was traded to the New York Yankees in 2006 and hit just 43 homers in three seasons for the Pinstripers.
To reiterate; I'm not impressed with Los Angeles Dodgers pitcher Clayton Kershaw, A.K.A. "The World's Greatest Pitcher" (thanks to ESPN). He's only 2 – 2 with a 2.91 ERA lifetime versus the Reds. It don't matter if he pitches a hundred scoreless innings, he's still 2 – 2 lifetime facing Cincinnati.
For what it's worth, despite ESPN force feeding nauseating news updates every two minutes, I could care less where LeBron James takes his talent next season.
As a matter of fact, I am that cynical.
Have a blessed week, GO REDS!!!!
Dan Howard
Photo: AP