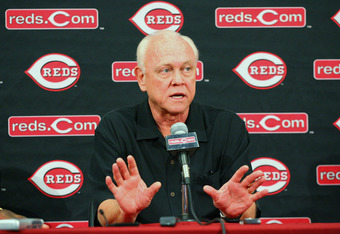 The proverbial seat isn't exactly piping hot for Reds general manager Walt Jocketty. But it's certainly not comfortable either.
In the midst of an injury-riddled season, in addition to being mired in a forgettable second half losing skid, Jocketty finds himself in a tough spot this week as the non-waiver trade deadline looms on Thursday. The Reds aren't out of the postseason hunt by any stretch of the imagination. But their odds of running down the likes of the Brewers, Cardinals and Pirates don't look good. So do the Reds buy, sell, or stand pat? Well, it's a decision Jocketty will have to make and fast, as the season isn't getting any younger.
At this point, most fans are likely still hoping Jocketty makes a move to help the Reds down the stretch run, while others are probably ready to throw up the white flag on 2014, choosing to build for 2015 and beyond instead. Whatever the case may be, ESPN Insider Jim Bowden recently tabbed Jocketty as
one of five managers under the most pressure to make a deal at the deadline
.
Jocketty has been looking for more offense for his lineup since the offseason. Despite trying to make a deal in spring training and throughout the regular season, he hasn't been able to find the right trade from his farm system or the right salary to bring back. With Joey Votto and Brandon Phillips both out likely until September, there is even more pressure on Jocketty to land a bat. If they don't, it's going to be tough for the Reds to be within striking distance when Votto and Phillips return. Jocketty has been pounding the phones trying to find help. He prefers a left field solution such as Byrd, Josh Willingham or Alex Rios, or better yet, a player such as Ben Zobrist who can play first base, second base and left field. This Reds team needs offense. A trade for a bat has become a necessity.
I'm of the opinion that any move to acquire one of the aforementioned bats is a case of too little and too late. Let's call it like it is: Cincinnati's offense is putrid right now and adding a mediocre bat to the lineup won't be enough to suddenly cause an explosion of runs. As the old adage goes, you can put lipstick on a pig, but in the end, it's still a pig. The addition of a proven hitter would be a waste of resources.
Instead, the Reds should wise up and concede the rest of this season in order to extend their window of opportunity to contend in the future. The club could desperately use the influx of some young and cheap talent to act as replacements for the inevitable departure of some of the current Reds about to score big pay days at the end of next year. Bottom line: Selling (not buying) makes the most sense for the Reds right now.