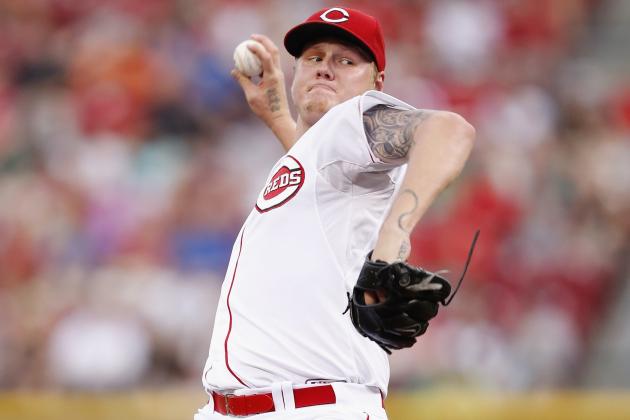 Although the non-waiver trade deadline came and went without the Reds making a move, it doesn't necessarily mean general manager Walt Jocketty won't end up executing one.
As any knowledgeable baseball fan will know, the trade deadline isn't actually an absolute deadline to strike a trade, but rather the deadline to make a deal without having to slide a player through waivers. The process to complete a swap after July 31 is certainly more difficult. But it's not impossible either.
With that being said, Buster Olney of ESPN.com recently
compiled a list of candidates who he believes could be dealt in the month of August
. It's an Insider piece, so a subscription is required to view the whole piece, but here is a snippet of Olney's column about the two Reds he named, which were Ryan Ludwick and Mat Latos.
Mat Latos, Reds
As Jayson Stark reported, the Reds have been open to discussing him, and Latos, 26, is arbitration-eligible this winter. It might make sense for the Braves to place a claim, given that Ervin Santana will likely depart as a free agent after this season.
Ryan Ludwick, Reds
It all depends on how he's swinging the bat at the time he passes through waivers, but Cincinnati could be ready to move him sometime -- and there aren't a lot of decent right-handed bats.
The motive behind moving Ludwick definitely has to do with the $9 million team option (with a $4.5 million buyout) he is owed next season. Getting his salary off the payroll could do wonders in Cincinnati's ability to go out and actually spend some money on a free agent or two this offseason.
As for Latos, he would be sure to bring in quite a haul via trade, which should include a top tier prospect or two. The right-hander is still young and still relatively cheap and those are very desirable traits to have in the modern baseball landscape.