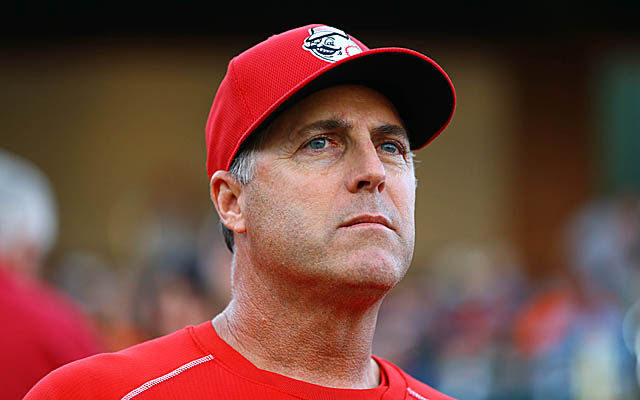 Credit: USATSI
by: Dan Howard
Staff Writer
Fabs, face, fact, fade, fado, fads, fail, fain, fair, fake, fall, falx, fame, fane, fang, fano, fans, fard, fare, farl, farm, faro, fart, fash, fast, fate, fats, faun, faux, fava, fave, fawn, fays, faze, feal, fear, feat, feck, feds, feeb, feed, feel, fees, feet, fehs, fell, felt, feme, fems, fend, fens, feod, fere, fern, fess, fest, feta, fete, fets, feud, feus, fiar, fiat, fibs, fice, fico, fido, fids, fief, fife, figs, fila, file, fill, form, film, find.
I just wrote down seventy seven f-bombs. Takes up a lot of space on a page doesn't it?
These are. In fact, official Scrabble words.
Hey Bryan Price, do you kiss your mother with that mouth?
Price seemed like a child who has learned a new word and couldn't wait to try it out.
I wonder if his mouth tingled like Spongebob Squarepants in one of my favorite episodes, Sailor Mouth.
My top 3 Spongebob cartoons; 1) Band Geeks, 2) Sailor Mouth, 3) Dying for Pie. I just thought you'd like to know.
As far as managers going nuclear, Chicago Cubs Lee Elia's rant in 1983 was probably the best.
Cincinnati's WCPO produced a parody of Price's meltdown by Madcap Puppets and OTRimprov. You Tube it. It's fire truckin' hilarious.
I know Price's tirade is very old business (happened last Monday) but I'm rearranging my schedule to get my posts done by Monday instead of Thursday, that way I can write my thoughts about the past weekend games.
My thought about this past weekend; nice ceremony Saturday. I wish the Reds played this weekend like they did in 1990.
Memo to self; these are not the Cubs of your childhood.
Self to memo; what do you know? You picked the Dodgers to win the World Series last season.
Memo to self; well played Howard.
Last Tuesday's outpouring of sixteen runs at Miller Park made me think that the Reds had figured this thing out and was turning the season around. The nine runs scored in the past four games combined was a cold slap of reality.
Useless Trivia; The three grand slams combined by the Reds and Brewers tied a Major League record for most in a game. The last time three slams were hit in a National League game was June 3, 1987. Chicago Cubs hit two while the Houston Astros added one.
MLB.com is promoting each Major League Baseball team's Franchise Four. It allows fans to pick the four players who exemplify the excellence of each franchise. On the Reds website you can choose Johnny Bench, Joe Morgan, Frank Robinson, Barry Larkin, Pete Rose, Dave Concepcion, Eric Davis, and Tony Perez. You may also write in a name which is why I'm writing this. Who better exemplified the Cincinnati Reds organization more than Joe Nuxhall? Can anyone even think of another individual who was a better ambassador of Reds baseball than Nuxy? Yes, I wrote his name in and I encourage you to do the same.
Don't you think it's about time for Sam LeCure to rejoin the Reds bullpen? He currently has a 3.68 ERA in five games for the Louisville Bats.
Sorry to hear about Cardinals pitcher Adam Wainwright, who will miss the rest of 2015 due to a ruptured Achilles'. Yes, I understand that this is the top pitcher of the Reds division rival, but it doesn't matter who St. Louis runs out there to face Cincinnati, the Reds will just roll over and play dead.
Man, I wish the Reds could play the Brewers every day.
75 Years Ago; the defending National League champions completed the first month of the season with a 3 – 0 loss at Crosley Field versus the undefeated Brooklyn Dodgers. At the conclusion of April the Reds record was 6 – 3 a full three games behind the 9 – 0 Dodgers. Cincinnati snapped Brooklyn's winning streak with a 9 – 2 win on May 1.
40 Years Ago; a 4 – 1 win at Candlestick Park allowed Cincinnati to finish April with a 12 – 11 record. The Big Red Machine was sputtering along in third place trailing the Los Angeles Dodgers by three full games.
25 Years Ago; Cincinnati completed their best April ever with a 6 – 2 win against the Philadelphia Phillies. The Reds were firmly entrenched in first place with a 13 – 3 record along with a 4.5 game lead over the second place Los Angeles Dodgers.
Have a blessed week. GO REDS!!!!
Dan Howard