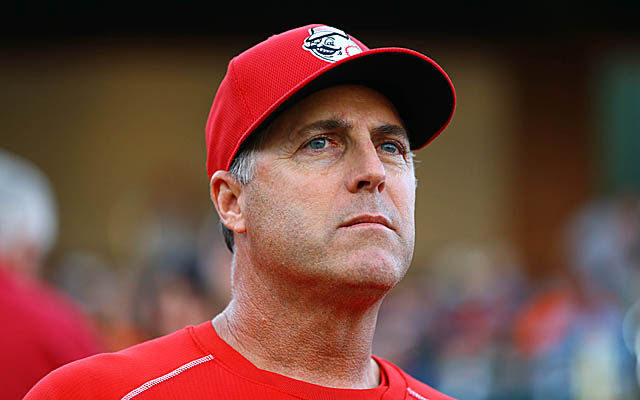 by: Dan Howard
Staff Writer
Apathy - the feeling of not having much emotion or interest: an apathetic state. From Merriam-Webster.com
Peter Principle (Wikipedia.com) - The Peter principle is a concept in management theory formulated by Laurence J. Peter in which the selection of a candidate for a position is based on the candidate's performance in their current role, rather than on abilities relevant to the intended role. Thus, employees only stop being promoted once they can no longer perform effectively, and "managers rise to the level of their incompetence."
That pretty much sums up my feelings about the Reds season thus far.
I said it, I admit I said it, and I stand behind what I said. For those who listened to the Redlegs Review podcast this week, you heard right, I did use the "F" word in reference to Bryan Price. FIRE HIM NOW!!!!
Reds manager Bryan Price (see Peter Principle above) has got to go while there's still time to salvage the season.
Remember Price's pedigree, a hot shot coach who knows how to manage a pitching staff. Well chew on this, Cincinnati's pitching staff, hand-picked by Price himself:
5.40 ERA – 14th in the National League
1 Save – Dead last in the N.L.
241 Hits Allowed – 11th in the National League
157 Runs Allowed – Last in the N.L.
141 Earned Runs – 14th in the National League
46 Home Runs Allowed – Last in the N.L.
124 Walks Allowed – Last in the N.L.
194 Strikeouts – 14th in the N.L.
Reds relievers now hold the Major League record for most consecutive games allowing at least one run – 22, and counting.
But Bryan Price is a genius with pitchers. O.K. define genius please.
The offense isn't much better.
100 Runs Scored – 13th in the National League
21 Home Runs – 12th in the N.L.
.231 Batting Average – 13th in the N.L.
.288 On Base Percentage – 14th in the N.L.
.372 Slugging Percentage – 12th in the N.L.
On a slightly positive note, Cincinnati is ninth in the National League with a .259 average with runners in scoring position, then again the woefully inept Milwaukee Brewers are second in the N.L.
The worst part of all this is that the Reds overall attendance is 12th in the National League, 330,739.
Has our beloved Cincinnati Reds become the Cincinnati Bengals of the 1990's?
40 Years Ago – May 7, 8, 9, 1976 the Big Red Machine rolled into Wrigley Field and swept the Chicago Cubs 3 – 1, 14 – 4, and 14 – 2. The three game pounding pushed the Reds into first place in the National League West.
Congratulations to Leicester City for winning the Barclays Premiere League soccer championship. It was the Foxes first ever top level championship in the team's 132-year history.
It's only four months until Ohio State football begins.
Have a blessed week.
Dan Howard